27 April, 2021
Gonzo's Quest Slot Review April 2021
Gonzo's Quest is the first platinum game powered by
NetEnt
with 20 paylines, Avalanche and Free Fall multipliers. Gonzo is a Spanish conquistador who arrived in Peru and captured a treasure map.

His style and name is based on a real personality, Gonzalo Pizarro, one of the cruelest and most adventurous conquistadors in the 15th century, who finally turned to be a rebel and was beheaded. There are some extra features in the game like Free Spins, a 5x3 layout and animated Gonzalo Pizzaro, who had an extremely extensive life. Actually he embarked on the journey to find the mystical El Dorado. The campaign throughout the Andes was unsuccessful and most of Spanish and locals died. For now you can help out Gonzo to find the hidden city and win a jackpot of 2,500 coins. Mayan-themed symbols are cascading upside down.

Unlike the Europeans the Incas lived a sacred life and worshipped the sun. By the way Europeans firstly tasted potatoes in South America, but their hunger was much more widespread and concerned colonisation, baptism and mainly gold. How to unveil Gonzo's Quest jackpot? Be patient until your best winning combination appears. The volatility is medium, the RTP is 96%. Get on a board to find your treasures, it's a long way through the jungles, mountains and rivers. The danger is both from wild animals and traitors. There is no Gonzalo Pizarro symbol on the reels, but he is constantly appearing on the display with a thoughtful or excited posture, depending on your winning combination.

Betting value ranges from $0.20 to $50. Read the following information to learn about Gonzo's Quest slot. Don't be shy, the real conquistador is far from restrained, especially Gonzallo Pizzaro, who actually finished the Inca Empire by capturing the emperor Atahualpa, organizing a mock trial, and finally executing him. You are on a mission with both a legendary ambassador and a savage, so be careful and patient. Gonzo relies on you to find El Dorado. There is still some speculation as to whether it is a mythical or a real city. Anyway Gonzo's Quest jackpot is real so let's crack on.
Gonzo's Quest Specifications
● RTP is up to 95.97%
● 5 reels
● 20 paylines
● 3750x maximum payout
● Gonzo's Quest is playable on all platforms
● 0.2-50 betting range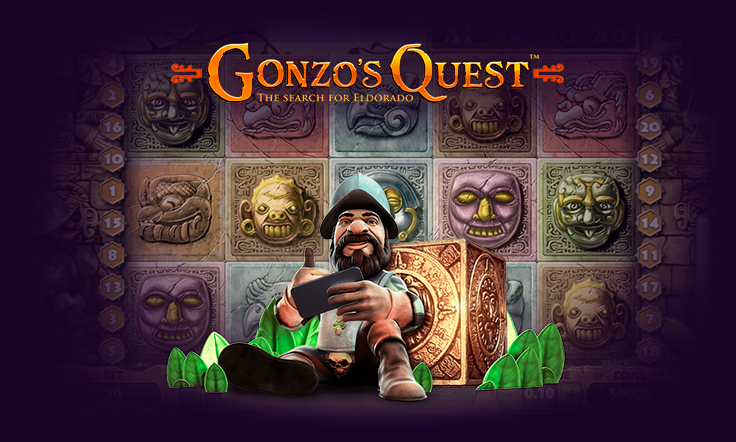 Gonzo's Quest Free To Play
Is it possible to play online casino games for free? Yes, it is. DuxCasino offers you the opportunity of a trial session. You can decide the pros and cons of the game, analyze Gonzo's Quest's RTP, and only after that make a deposit if you would like to. Explore Peru with a 15th century conquistar, Gonzalo Pizarro. Actually he picked up the information about El Dorado from rumors, but immediately recruited troops and natives – altogether 220 Spanish and 4,000 locals. Actually he was already a governor of Quito which is nowadays the capital of Ecuador, but he was quite a risk-taker and arranged a journey through the South American continent. After a deadly expedition he returned and found out that his brother and his executives had been executed. He refused to obey the new Spanish King's representative and became a rebel. He was supported by many militants who proposed that he become King of Peru. After all, Gonzalo's life ended sadly; he surrendered and was beheaded. Maybe it's karma because he was one of the most ruthless conquistadors in South America. His life was filled with sieges, conspiracies, fights, sailing, shoot outs, debates, crossing the Pacific Ocean and exploring the unknown world. His life ended at 38-years-old and he was resurrected in 2011 by NetEnt studio, one of the most exclusive providers in the industry. Check out the most recent games by NetEnt, like Street fighter, Gordon Ramsay Hell's Kitchen, Divine Fortune, Hotline 2 and many more. After the release they appear at DuxCasino and you can test them out absolutely for free. Trial session is limitless so you can explore every option of the game before making a decision. Slots are pretty straightforward and flashy, and that's why they became so popular among online casino games. You may stop Gonzo's Quest anytime and choose another game. It's all up to you.

How Does it Work?
How to win Gonzo's Quest slot? No worries, it doesn't require any special skills except luck and bankroll strategy. Gonzo's Quest mechanics don't differ from other slots and it's pretty simple. There are no hacks on the Internet because all results on the reels are spontaneous. It takes 15 seconds to download the game and open the navigation which consists of 5 reels 3 grid layout, bet value, level of bet, autoplay and manual mode, coin size, balance, win and multiplier. You can change settings and read the information section. There are 20 paylines. Wild Symbol substitutes for all symbols. There are seven of them. Mayan-themed symbols appear on the reels randomly.

Wild symbol only appears on reels 2, 3 and 4. Only the highest win is paid. When you play for money, the game history is available. What are the special features of Gonzo's Quest? There are two of them. The avalanche. In that mode symbols fall on the reels instead of triggering. The avalanches continue until there are no more wins. Maximum multiplier in avalanches is five. Another feature is free falls. They may appear only on reels 1, 2 and 3. Free falls might be additional. How many Free Spins can I get in DuxCasino? You can get up to 20 Free Spins.

Don't let Gonzalo Pizzaro be frustrated, he was a great risk-taker who had enough power and wealth, but went on a dangerous trip for gold. Conquistadors in South America were amazed how much gold they discovered, so by that time a whole city of gold didn't seem like a legend at all. By the way there is a huge difference of conquesta in Peru and in Mexico. Other nations didn't possess as much gold as the Incas. This is one of the reasons why Spanish were such butchers on some occasions. Commanders like Gonzalo Pizzaro were gold obsessed and saw so much of it like never before in Europe. They demanded from Inсa leaders full rooms of gold and if they refused tortured them to death.

On many occasions Gonzalo Pizzaro was a real savage, he was referred to as the most corrupt and brutal leader of the New World. Watch some documentaries from BBC or National Geographic; they are outstanding. There was untouchable nature, sacred rituals, no mercy to invaders, horse racing. Check out a new doc, Lost World of the Maya, on YouTube to be amazed how many secrets and treasures are still hidden in South America among a stunning landscape. So far there are so many mysteries about religious cults and decay of civilizations. Archeologists still explore the ancient remains.

Have you ever tried being an archeologist? Believe us it is very tedious and hard. Much easier to play Gonzo's Quest at DuxCasino. You just need to adjust the simple settings and trigger the reels. The theoretical RTP of the game is 96%, medium high volatility, but even then there are wild, scatter, Free Spins and two bonus features. That's exactly why Gonzo's Quest is one of the most popular game, even though it is just about a decade after its release. There is also another version of Gonzo's Quest: Megaways. Check out a huge DuxCasino library. We reward you not with gold, but cash and you can deposit most common currencies.
Play now
Gonzo's Quest Jackpot
The jackpot of the game is 62,500 coins, it isn't progressive. There are numerous reviews on the slot but it will never help you to win. So let's get going, make a deposit and press a spin button. Don't forget to make a screenshot if you get a big win. We appreciate your playing Gonzo's Quest at DuxCasino. Our online casino is a premium lounge zone. And we indulge regular players with bonuses and promotions. Open the promotions section on the main page to discover how to get a welcome package and Free Spins. The VIP program is also a pretty interesting option. Every bet is counted by DuxCasino so you can raise your VIP level and, depending on it, you can get more cashback, Free Spins and increase your withdrawal options. If there are any unanswered questions, check FAQ or contact our support team available in English and German. We work around the clock to make it as convenient as possible for you. Instant payouts and withdrawals without fees are our priorities. But we also have got many other things you might be interested in, so visit our blog to be familiar with all DuxCasino updates and bonuses. Only true and relevant information about gambling on a daily basis. We appreciate that you are staying with us. DuxCasino is a real diamond among others. We ranked the whole information and have got a dedicated team of developers, financial analytics, VIP managers, support and SEO. Feel free to leave your feedback.

Play Gonzo's Quest on your Mobile Phone or Tablet
We guarantee fair random results. Most likely you have seen casino scenes in James Bond Casino Royale, Ocean's eleven, The Hangover, Scarface, Lock, Stock and two smoking barrels. Nowadays you don't need to go to a private saloon in Nevada for gambling. Just click on the DuxCasino icon or download a free app to play the staggering number of slots, games with a live dealer, and lotteries. No matter whether you like flashy slots with animation or card games with live dealers like blackjack, baccarat, poker or maybe you prefer craps. It's not an issue to gamble on your smartphone or notebook. Online gambling has reached a level the world has never known before. You can play slots all day long from anywhere. Bear in mind that all slots are not only free to play, but also mobile friendly. We want you to note that there are 5,500+ slots available at DuxCasino and all of them are customized to play using iOS or Android. It's the greatest gift that a gambler could ever have.

Online gambling is a phenomenal thing which occurred just a decade ago and is booming in last few years. Slots are new kinds of attractions and we love being involved in the fast-growing entertainment industry. We know the roots where it all began, because we are avid players. It's essential for us to have committed staff. We promise you safe deposits and payouts, we have got an anti-fraud team to protect your balance from issues. If any misunderstanding happens, the support or VIP manager might help you to solve any problem. We intend to become the most prominent casino in the industry. And that's no sweet lie or exaggeration.


Gonzo's Quest Slot at DuxCasino
El Dorado was the biggest dream of the Spanish conquistadors. Gonzalo Pizarro wasn't alone in being passionate about this goal. While searching for El Dorado, the Spanish made many geographical discoveries in Columbia, Venezuela, Panama, Ecuador and of course Peru. Gonzo's Quest is a famous adventure slot powered by NetEnt. It features a unique Avalanche Reels feature with x5 multiplier and Free Falls feature with 15x. The maximum multipliers of the game are an astonishing 2500x. The game has got a platinum status around the world and it's no wonder, because of its cult impact on the industry.

Catch 3, 4 or 5 matching symbols on the reel and grab your winnings. This is a popular game among all kinds of players – high or micro wagers. Even though it was released in 2011 the slot is still pretty playable and eye-catching. The capacity of Gonzo's slot is 20 paylines, 2 unique features, many settings mode and the animated Gonzallo Pizzaro character. He crossed the Passific Ocean to bring the Spanish crown and Christianity to the New Word. Things turned out slightly different, but anyway he had an exciting life. He was very lucky to appear in Peru which was among the richest in gold. There are some exhibitions around the world about conquistadors and all artifacts are made of gold – the globes, plates, and trays.

The situation with gold was different from country to country. The Northern America and Canada had little gold compared with Peru. The main resource was fur. The movie, Revenant, with Leonardo Di Caprio is a great movie about struggles in living with wild nature and tribes. Without a doubt the life of Gonzallo Pizzaro was about real survival. Imagine how one Spanish guy with around two hundred recruits was imposing laws, baptising, searching for El Dorado, and finally got so much power that he opposed the Spanish King. Gonzallo Pizzaro is like a Marvel hero.

Are you brave enough to play Gonzo's Quest slot? Download the game at DuxCasino and play for free or with real money right now. We warm you up with welcome bonuses on 1st, 2nd and 3rd deposit and constant promotions. The gambling business is challenging and we keep up high standards. Gonzo's Quest is a legendary game and we couldn't ignore it. It has the aesthetic of Peru, Ecuador, jungle forests, Mayan and Aztec remains and of course is a myth about the forgotten city El Dorado which is similar to Shambhala in Nepal, or Atlantis somewhere in the Atlantic ocean. There are still rumors and hypotheses about it. So many National Geographic documentaries dedicated to that subject as if it's life-living information. Gonzo's quest is an adventure-themed slot like The Book of Dead, and also one of the most popular in the world. Discover other slot games at DuxCasino with a €500 bonus + 150 Free Spins.
There are many games by all providers for fun or for money. We have got full-coverage information in a blog with passionate authors. Check out other most popular slots like Book of Dead, Starburst, Legacy of Dead, Wolf Gold, Bonanza, Ramses Book, Razor Shark, Fire Joker and Mega Moolah. All games are available at DuxCasino, one of the most reliable online casinos authorized under the Malta gambling license. Download the DuxCasino app to play from any device and enjoy a flawless playing process. We encourage players with special promotions and bonuses. Visit DuxCasino promotions to be familiar with lucrative additional options. There are permanent promotions like a welcome package on the first, second and third deposit. The first deposit should be at least €20 and you immediately get 100% bonus up to €150 and 150 Free Spins. Get massive bonuses and make more spins. Also make a deposit on Tuesday and we'll credit your account with 100 Free Spins in the most famous game, Book of Dead. There are also special promotions like Weekend reload, Highroller bonus and Twitter Game of the week. Also there are many holiday promotions and tournaments you can take advantage of. Stay side-by-side with DuxCasino to make your gambling more exquisite. And of course we can't not mention the famous daily, Drops and Wins. If you have got any advice or business inquiries please contact us. We are open for any collaborations, so feel free to email us. We hope you enjoyed reading Gonzo's Quest review. Let's try this hustle out. Play slot right now at DuxCasino.

Play now
More news
Interesting articles
Book of Dead Slot Review
Crazy Mix Slot Review
Gladiator Slot Review
Legacy of Dead Slot Review
Raptor Doublemax Review