3 June, 2021
Legacy of Dead Slot Review June 2021
Even after numerous astonishing discoveries, ancient Egypt remains a mystery wrapped in an enigma. Every time scientists discover something mysterious, such as a royal sarcophagus, an artifact, or a burial chamber, there is a risk of getting haunted.

Remember the team of six archaeologists who all died under mysterious conditions shortly after opening an ancient sarcophagus in 1922 or how the former Minister of State for Antiquities Affairs and a renowned Egyptian archaeologist Zahi Hawass was haunted in dreams by two child mummies after he had discovered them? All this has been documented by Netflix in the series of Top 10 Secrets and Mysteries.

Burial chambers have always attracted not only scientists and archaeologists but also smugglers due to the tradition of ancient Egyptians to bury all the valuable belongings of the dead man with him. Despite the risk of becoming cursed by ancient Egyptian gods and pharaohs' ghosts, people go on digging deeper, searching more diligently, and taking more from the unknown. And who can blame them? Seeing so many precious things that are just waiting to be taken and not to act? No way! However, if you have fear of infernal gods, yet won't give up the idea of grasping Egyptian treasures, we have a better alternative for you — the Legacy of Dead slot machine! This Egyptian-themed game will transfer you to a burial chamber of some unknown pharaoh packed with gold and artifacts that wait for a lucky and risk-taking gambler. It seems that Play'n GO knows how to design truly successful slots in this theme. And Legacy of Dead launched in October 2019 is a bright example! Here is a Legacy of Dead slot review in more detail especially for our gamblers!

Legacy of Dead Free To Play
DuxCasino gives players a wonderful possibility to appear inside a burial chamber of Legacy of Dead without depositing even a cent! Play the game entirely for free to get familiarized with the gameplay, the symbols, and their values, and feel the spell of Tutankhamen in the game. In the Legacy of Dead free play version, you will be generously awarded thousands of free credits to spin as much as you wish! The demo game is available with no registration, by the way!

How Does it Work?
The three-row and five-reel game opens up an insight into an ancient Egyptian burial chamber. Despite looking majestic, the classic scenery has a scary vibe to it and gives you a creepy feeling. The flaming torches on the sidewalls, the hieroglyphs on the walls, and the drum banging music bring goosebumps all over your body! And believe us, you will like that feeling of adrenaline rushing through your veins.

The Legacy of Dead RTP is 96.58%, the volatility is high, which means you can expect truly big wins, though rare. The developer has made it possible to bet on any payline from the 10 given. At the same time, you can bet on all of them and take your winnings to a mind-blowingly high amount — up to 5,000 times the bet! Let's calculate together: the betting range is $0.10 to $100.00 and if you play with all 10 paylines with the maximum bet and win the 5,000 multiplier, you will leave the game a bit richer, actually a LOT richer — with half a million dollars! Are you still wondering if it's worth a try?!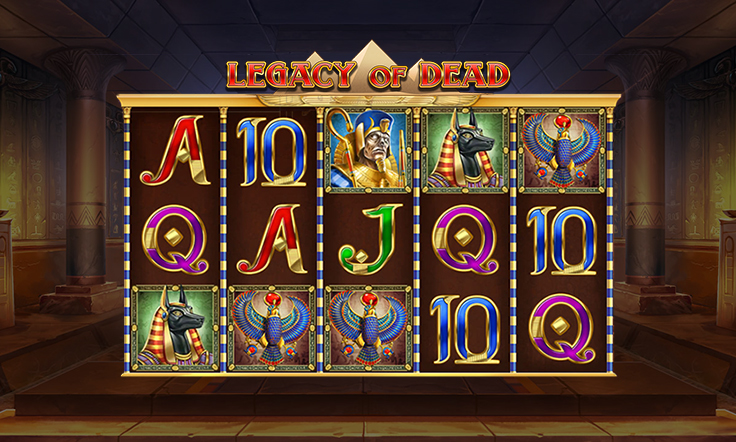 The Enchanted Symbols
The low-paying symbols in the game are the regular royal cards (10, J, Q, K, A) rimmed in gold for a better presentation. They pay 120x the bet for 5 Aces on the payline at most. The next few icons, which pay significantly higher, are all thematic. Winning combinations are made with 2 to 5 identical icons on the payline. Here is the chart of higher-paying symbols you'd like to keep at hand when playing:
● Anubis pays from 5 to 1,600 times the stake for 2 to 5 icons of Anubis — the God of Death;
● Horus and Tutankhamen pay from 5 to 600 times the stake for 2 to 5 matching symbols on the payline;
● The Pharaoh is the most lucrative symbol paying out 10x to 5,000x the stake for 2 to 5 matching icons.

Nevertheless, there's another symbol in the majestic slot machine Legacy of Dead, and it serves as the wild. The symbol pictures a gold burial chamber. Besides having the same value as the Pharaoh, it can substitute all regular symbols and boost a winning combination.

Play now
Legacy of Dead Jackpot
When you play Legacy of Dead you shouldn't expect any jackpot. However, it still offers amazing ways to win and increase your wins inside the game.

Remember about the Wild icon gold chamber? Well, it serves as the scatter, too. Whenever it lands on the paylines in 3, 4, or 5 it triggers a round of 100 free spins. The real perk here is the huge multiplier. Depending on how many scatters you have, your bet during the free spins will be multiplied by 2, 20, or 200 times in case of a win! During the round of free spins, a certain symbol is randomly chosen via the expanding symbol. When you land it on the reels, it will expand immediately bringing a huge win! Moreover, when this happens, expect another symbol to join the club, i.e. become an expanding icon, too. You see, even though Legacy of Dead doesn't have many features, those which exist can be really generous!

Like in many virtual slot machines by Play'n GO, here, too gamblers are given the chance to double every win they have. So, whenever you get a winning combination, a window will pop out offering you the gamble feature. You will be given two cards and decide which of them is red and which black. If you are successful, your win will be doubled! If not, you will lose it. In case you win with your gambling feature, you can repeat it again and again (if fortune is on your side, of course).

Play Legacy of Dead on your Mobile Phone or Tablet
In ancient Egypt, there were no mobile phones, and pharaohs had to amuse themselves in other ways. But today, people are privileged with the chance for an exotic time of playing slot machines right on their mobile devices. DuxCasino is ready to bring some mystery and adventure into your leisure time, offering to launch Legacy of Dead majestic slot machine on your smartphone. Generally, all the creations by Play'n GO are not only beautifully crafted but also perfectly suited to mobile gambling. Spend a couple of hours gambling at the casino and you will instantly fall for it. Then you will crave for a mobile app, and voila! app.duxcasino.com is the link that will lead you to get a perfectly operating casino app DuxCasino!

Legacy of Dead Slot at DuxCasino
If we said that the slot machine Legacy of Dead is one-of-a-kind, we'd be lying. The theme isn't anything new, just like the features. And yet, the game does stand out in the crowd thanks to its timeless winning formula and the masterly accomplished idea of the Play'n GO team. It's a paradox but the standard design of the reels and the background that we can meet in many other online slots is so memorable and impressive here! The bright and crisp colors, the enticing soundtrack, and spectacular gameplay do the job well. The few features assure an incredible win since we are at a pharaoh's burial chamber at last! It's well worth looting and DuxCasino challenges you to try!

Play now
More news