21 May, 2021
Gladiator Slot Review May 2021
We know how much you like to trigger a bonus round, so let's take a look at the Gladiator slot with three of them! It's worth taking a risk.

With 30 paylines and the highest payout reel from left to right and from right to left! Plus two bonus features, 2x WILD and GLADIATOR SMASH WILD REEL! Moreover, there's a Gladiator bonus round where you can choose HERO or VILLAIN and see 1v1 battle. Feel like a gambler in the Roman Empire in the 1st century BC, where everybody from the Emperor down to the peasant could gamble tax free! The word "dicey" actually comes from the Roman obsession with playing dice. Most breathtaking and spectacular were the gladiator fights. If you like MMA or UFC betting, check out Gladiator which you can play 24/7 worldwide.

The game is customisable by coin value, bet per line, and numbers of lines. Since we all are fans of the epic movie Gladiator, plus games such as Shadow of Rome and Assassin's Creed, we want to give you the ultimate guide to the Gladiator slot game.

So let's cover the topic and get into the ancient gladiator's fight. Are you brave enough to throw some coins into the Gladiator slot? This game is known for paying out large sums of money. You heard this right. This game frequently offers high payouts. Stay updated with DuxCasino and earn real money.

Gladiator slot free to play
No practice is required to play slots, it's pretty straightforward and you will never get bored, especially when it comes to Gladiator, with its many animated bonuses. We didn't mention yet the Gate Bonus which offers you an option to be rewarded by choosing the right door. Really, this game is one of the most dynamic on the market. There is no disclaimer, because every spin is spontaneous. It's pretty cool that you can activate all bonuses for free. Play a Gladiator slot demo at DuxCasino. No sign up or any ID details required. Check out bonuses and RTP for free. Enjoy a full range of game options without spending a penny.

Let's crack on. Get started with thousands of possible combinations. A top choice for any kind of gambler. Make sure you understand the Gladiator free play and tutorial before playing for real money. We all like our ancient war games, so welcome to the arena. There's tons of pages dedicated to the Roman battlefields and behind the scenes facts. So now it's time to plunge into the Roman Empire. Use your intuition to hit a mega win by playing one of the most popular games based on the 5 x Oscar-nominated movie, released in 2000 and yet still exciting. There are around 10 gladiator-themed slots at DuxCasino. Start the battle and have no mercy, the winning combinations are awaiting you.

How it works
Your combat arsenal is the game tools. Go to the menu to set up your BET. Adjust BET IN CASH and BET IN CREDITS manually by choosing coin denomination, bet per line and number of lines. The smallest bet is €0.30, the biggest is €45. You can switch the AUTOSPIN mode to MAXIMUM LOSS IN CASH or STOP ON WIN IN CASH. Complete game rules are simple and don't very much differ from other online slots, but Gladiator by Betsoft is 3D, which is relatively rare among slot games, so let's get closer to the symbols and winning combinations.

There are 30 paylines. The symbols are represented by two gladiators, a horse, a sack of money, a tiger, a sword and shield, a mace and shield, and a flag. The Scatter symbol is The Colosseum. Scatter pays on any reel in any combination. Scattered wins are added to payline wins. It's pretty cool that all paylines win both from left to right and from right to left. Let's jump straight to FEATURES. Normally there is one WILD, but Gladiator offers two! The first is represented by a Princess; she tosses rose petals and when they touch the symbols below they turn them into 2x WILD.

Another wild symbol is the HERO GLADIATOR, which is also impressive. He turns the whole reel into WILD by smashing the marble slab. Honestly it's our favorite feature. Wilds substitute all icons except the Door and Colosseum. Also there is a special Door symbol which activates the lottery. Get three or more Door symbols and activate the CLICK ME feature. You will get access to choose a winning Door. On top of that is a 3D gladiator battle. Get the Hero, Colosseum and Villain on special paylines to activate fight. Before that you can choose a gladiator which is under your control. This feature links to such bestselling games as Street Fighter, Mortal Kombat, Marvel vs. Capcom, Tekken and Fatal Fury. The combination of slot and fighting games make this game outstanding.

We definitely put this game in the list of 2021 best selections. It's the greatest point of the entire game. The Gladiator slot game is currently available at DuxCasino among 5,550+ slots of many themes, paylines and jackpots, both progressive and non-progressive. I guess we've given you the full-coverage on the Gladiator slot, so let's move onto the description of the jackpot.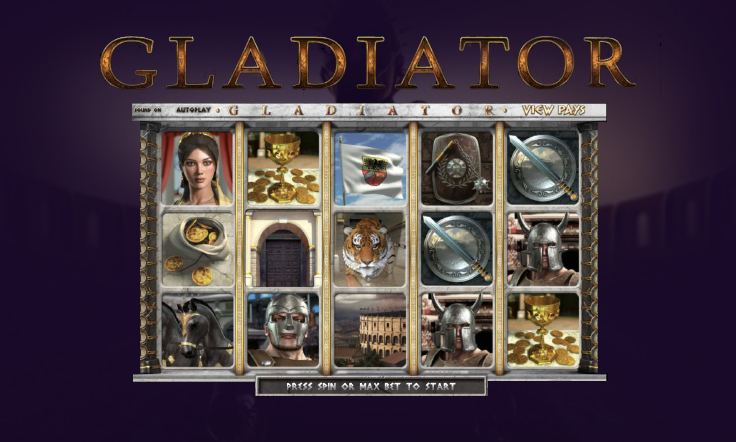 Gladiator slot jackpot
Unfortunately Gladiator has a fixed jackpot, which is 2,000 coins in total. If you fancy a progressive jackpot game, choose among the many other slots at DuxCasino. There are so many promotions for all kinds of players. Use simple navigation to choose a game that best suits your taste. The DuxCasino is a trustworthy brand, so there are no doubts for high roll or progressive jackpot lovers. Payouts are fast and free of fees. Stay with us and get access to the VIP Program, weekly promotions and bonuses. We guarantee that all slot results are being randomly generated and the withdrawal process is clear. If you are lucky enough to hit the jackpot you will be assisted by a VIP Manager for any questions you might have.

Check out the leaderboard of the DuxCasino. The win figures are staggering and it's all for real. DuxCasino is a legit platform working under the license of Malta, one of the hearts of gambling, with both land-based and online casinos. There are plenty of top casino Twitch users streaming from Malta, such as Roshtein (there are many Roshtein highlights on YouTube, including playing Book of Dead, Razor Shark, Mystery Museum, San Quentin, Jammin Jars and many others).

DuxCasino is a heavyweight gambling platform, able to offer you 100% secure and easy gambling. Deposits/withdrawals are instant and with no fees. As all wins are randomly generated, and anyone can win at the online casino.

If you're not sure which slot to play, choose among DuxCasino's recommendations. For us the casino isn't just a hype, we are thoroughly passionate and dedicated. Unlock bonus games at DuxCasino. We reveal all the important information and keep you updated about gambling trends. To read the latest news visit our blog with slot news, winner's interviews, highlights, tutorials, industry news and much more. We are open to all kinds of collaboration with gamblers. DuxCasino is legit and worldwide. Take advantage of our special promotions for 1st, 2nd and 3rd deposits with the welcome package and free spins. That's enough to be sure that DuxCasino is a reliable and fair place for gambling anytime. On top of that, we have a VIP Program. Take advantage of that premium program where every bet counts.

Play now
Play Gladiator slot on your mobile phone or tablet
One of the biggest advantages of the internet is freedom. Online casinos don't require a dress-code, ID or membership. We respect your privacy and also have an anti-fraud team to protect your account. While the e-commerce and finance world is facing decentralisation by cryptocurrency, we try to provide you with the highest service for gambling. Your location is up to you. No matter whether you play on the backseat of an Uber or in a hotel room in Zanzibar. All our games are mobile friendly whether they're slots or card games with live dealers. Download the DuxCasino official app from Apple store or Google Play and gamble with ease. For both iOS and iPhone devices. You can play whenever you want. All you need is an internet connection and a VPN app (if your country is among restricted for online gambling). Make your spins work and bring you money. Okay, let's move on to the summary.

Gladiator slot at DuxCasino
Gladiator is a 5-reel, 3-grid slot game by Betsoft. Betsoft is based in Malta and claims its software to be like true cinematic gaming. If you see flashy realistic slots they are most likely produced by Betsoft. The Gladiator slot is one of the gems of the studio and we consider this game to be very underrated. It should definitely stay on the list with bestsellers like Mega Moolah, Starburst, Goblin's cave, Gonzo's Quest and Book of Dead.

Personally we love Gladiator for its minimalistic Roman style, the sound of reels triggering and for the special features. The Princess WILD x 2 and GLADIATOR SMASH WILD REEL features are staggering. This game combines previously unconnected elements like fighting and lotteries all in one slot. Wow!It's a pity that this game isn't appreciated like it deserves. We tried our best to give it the best rating. It's no doubt 10/10 even though there are no free spins and progressive jackpot.

The game was released in 2011 but it still looks very up-to-date. This is an unbiased Gladiator review without any commercial purposes. It's a must have game for lovers of the Oscar-winning movie Gladiator (2000) and ancient, medieval and battlefield themes. We are proud to announce this game with all its pros and cons. The RTP (Return to Player) percentage is 92.67%. This is a statistic based on a long-term assessment, but anything can happen short-term, like a jackpot or a losing streak. The volatility of the game is medium stable. We encourage you to play Gladiator slot at DuxCasino with €500 Bonus + 150 free spins.

DuxCasino is 100% mobile friendly so you might download an iOS or App Store application. Play on the go or wherever you want with the comfort of a VIP room in one of the best land-based casinos in the world. The downloading process is instant. You just need a mobile internet or Wi-Fi connection for playing. Real money is not required at any point, because all the slots are free to play. Gladiator is a very good game for newcomers to gambling.

DuxCasino recommendations might give you many ideas on which slots to pick up for gambling. There are all kinds of themes and atmospheres like fruit slots, animals slots and all variations of Book of Dead and fantasy. We've got top-list games like Fire Joker and others. Anyone can get started and win at online casino. One of our winners deposited €50 and hit the jackpot for more than €100,000!

We inspire our players with special promotions like TRIPLE IMPACT BONUS, TWITTER GAME OF THE WEEK, TUESDAY FREE SPINS, WEEKEND RELOAD, HIGHROLLER BONUS and many more coming soon. We claim sincerely that Gladiator is one of the best ancient Rome themed slots. Gladiator fights were hugely popular with the Romans. Gambling wasn't just common, people were praying to the Goddess of luck named Fortuna. Fortuna means luck in the Latin language. The word Dux from DuxCasino also translates from Latin, meaning Leader!

Many philosophers referred to Fortuna in ancient or medieval times, one of whom was Boccaccio. Still many gamblers have superstitions for playing in slots and games such as Poker, Baccarat, Blackjack, Lottery, Roulette and Monopoly. Save your best wins for us by taking screenshots and we will be glad to post them in our Blog (where we drop all kinds of relevant information). We've built a whole community of dedicated staff and gamblers so we're open to all ideas. For any questions or enquiries please contact our Support Team available 24/7 in German and English. That's enough for today. Thank you for staying with us. Until next time! Good luck!

Play now
More news