20 July, 2021
Adventures Beyond Wonderland Live Review July 2021
Are you dreaming of being in the shoes of 52-year-old Mavis Wanczyk, who won $758.7 million? Of course you are! By the way, after winning, she immediately quit the hospital, where she worked for a long time.

The lottery she played is called Powerball, and she hit the jackpot alone. Powerball is famous among lottery lovers. All contributing to the big jackpot prizes going to the winner. This American lottery became the basis for the creation of Powerball New Zealand and Powerball Australia. It dates back to 1988, and the Powerball lottery was the product of the Interstate Lottery Association. Its original name is "America Lotto" and was changed in 1992. It is a well-known fact that the rules of the game have often changed over 30 years. In 2015, new rules for the drawing were established, which are still in force today. Australians took the idea of this show and, in 1996, launched an exciting project - Oz Powerball. It is the country's national lottery, covering all territories, including Western and Southern Australia, New South Wales, Tasmania, Victoria, and Queensland. Since then, the popularity of the game has only grown. The AU players received the largest amounts of money won in the lotto in Australia. The record was the January jackpot in 2016 when the owner of the only ticket received AUD 70,000,000. Naturally, the online gambling providers could not get around this idea. Many of them presented their developments, the leader of which is the Adventures Beyond Wonderland live casino game from Playtech! It is worth noting that the game is based on the plot of the beloved book Alice in Wonderland by Lewis Carroll. You can take advantage of live gambling at DuxCasino. And if you take advantage of our rewards EUR 500 + FS 150 in time, then perhaps you will become one of the lucky ones! And if you're lucky, share this joy with your family. In 2019, a Canadian won $60 million in the lottery and hid it from his family. His wife and children did not know that their dad was a multimillionaire. So take a chance and get a 100x multiplier!

Advantages of the Live Show: Enjoy the Caterpillar & Make Your Bets!
Very soon, the wonderful masterpiece of Lewis Carroll's "Alice's Adventures in Wonderland" (or, as they often say, just "Alice in Wonderland") will be one hundred and fifty years old. Yes, this amazing story, familiar to most of us from childhood, was composed by an English writer back in 1865. Since then, several generations have grown up on it in different countries. It has been filmed many times, translated into a formidable number of languages, presented in comics and cartoons. In addition, "Alice in Wonderland" inspired creative people to create all kinds of works based on her adventures. And in the fall of 2020, Playtech presented us with its unique development - Adventures Beyond Wonderland live casino game! Its distinctive theme and graphics have been taken into account and turned into a brand new Live Casino experiment. Dealers dressed as characters lead the process. It includes:
● Adventures Beyond Wonderland live RTP is 96.61% - 96.94%. Note: these figures may vary depending on the bet made;
● Players have a chance to get a multiplier - 100 times;
● There is a Wheel of Fortune gameplay with riddles and multipliers;
● The gameplay is straightforward;
● Players make a bet on a number, and if there is a number of them, the participants receive a multiplier of the same value;
● Besides, lucky ones can participate in one of 3 bonus games, which will lead them to an exciting bonus round.

So it's high time to make your bets! One bet is available for each spin:
● One;
● Two;
● Five;
● Ten;
● Magic bones;
● 2 Wonder Spins;
● 5 Wonder Spins.

Bets on numbers are paid in an amount that is a multiple of the number, multiplied by the bet that the participant made. In addition to four different numbers and three extra games, there are two "Mystery" cells within the wheel. Rates for the above-mentioned compartments are not available. If one of them lands, then the participants receive prizes: respins with multipliers or the amount of the multiplier of the bet. Has a bonus round fallen out? - The players are lucky and the fun begins!

Jackpot & Bonus Options
All participants are eagerly awaiting the start of the WonderSpins bonus round. After it starts, you will find yourself on a new wheel, and here you can drop 2 WonderSpins or 5 WonderSpins. It is a kind of identifier that will show how many bonus spins will be available. In general, two wheels are available here - internal and external, and they will rotate simultaneously. Interestingly, the inner wheel applies a multiplier to one of the symbols for the outer segment of the wheel. Three extra rounds allow participants to get huge multipliers of spin rates:
● March of the Card Soldiers;
● Magic Bones;
● Mysterious Caterpillar Bubble.

The DuxCasino experts are convinced that no participant who decides to play the Adventures Beyond Wonderland live show has a chance to leave without prizes! There are so many of them that everyone will get a piece of luck! Let's focus on the studied patterns. The show, where fabulous prizes are played live, has the subject of various studies. Many people have devoted their lives to this research and tried to find a winning strategy. Some took mathematical calculations as a basis, while others preferred human psychology. But alas! There are no numbering schemes and exact calculations. The idea of developing a strategy for calculating numbers and the sum of wins is unrealistic. Live lotteries guarantee an even distribution of winnings. The first thing the DuxCasino warns its customers about participating in a live show is that winning/losing is a matter of chance. We only guarantee you honest payments of your earnings.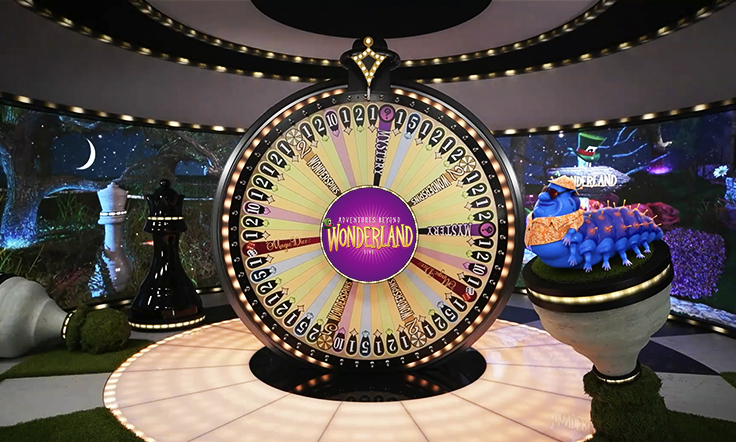 DuxCasino Mobile Apps: All Fantasy Heroes In Your Pocket
DuxCasino offers you convenient applications for iOS and Android. The official Adventures Beyond Wonderland live show, checking the results, issuing notifications, withdrawing winnings, and much more, is also available through the application for your mobile device.
Go to the Mysterious World of Wonderland with the DuxCasino
By the way, you can take part in the show with the whole family. For example, this is a good tradition for Canadians. Here, many relatives allow each other to participate in live lotteries as a gift for any holiday. In Canada, gambling was legalized in the middle of the 20th century, and a little later, the format of live lotteries appeared. Follow the example of Canadians, as they know a lot about gambling! DuxCasino not only guarantees fair payouts and licensed software but also tries to provide its users with the opportunity to participate in cutting-edge developments. That is why we could not deprive you of the opportunity to take part in the Adventures Beyond Wonderland live show from Playtech. Of course, we have also tried to give you as much information as possible so that you can turn an exciting process into a series of pleasant surprises for yourself!
Play now
More news