30 June, 2021
Stacked Online Slot Review June 2021
Have you ever tried to pull a rabbit from a hat? Well, if not, then you must have witnessed it when you were a child or have once admired the magical talents of Harry Houdini or David Copperfield.

Betsoft Gaming suggests recalling the sweet taste of cotton candy and the smell of freshly fried sticky donuts sold outside the circus with this Stacked slot! With an average 96.39% RTP rate and a few fantastic tricks up its sleeve, this four-reel and 20-payline virtual slot machine will be your ticket back to childhood! Already feel triggered to get a deeper glance at the Stacked slot review? Well, you are welcome!

Stacked Online
Would you agree if we said that magicians or illusionists are the most honest people nowadays? They tell you they're going to fool you and they do! With this funny yet quite sensible statement, we suggest considering the new slot machine by Betsoft. It was introduced to all online gamblers only in March 2021. This software company is well known for its stunning animated slots, and the Stacked slot proves they haven't lost their skills. It boasts the magic feel it brings to players once launched. Here you will be met with a performance stage. The illusionist will be standing on the right just beside the grid with a wand in his hand. On the other side of the grid, there will be a white dove looking suspicious at you as if challenging you to overplay the magician. This is definitely a game for casual players featuring a high hit rate and an impressive abundance of special features. The potential, however, can't be described as impressive even for a casual game. Here it's only 664.3 times the bet.

Stacked Top Winners
Nothing is more thrilling for a gambler than winning a big jackpot. And even though gambling is, first of all, a means of entertainment, it's normal to expect and hope for a win. Remember that fortune favors the bold. At DuxCasino, a fully licensed and reliable online casino, you get the chance to work your luck. Also, every new player is welcomed with €500 and 150 free spins! Isn't this your opportunity to win big and stand side by side with such names as Elmer Sherwin, John Tippin, Kerry Packer, and other big winners who have managed to make a fortune spinning the reels?! You can join the list of Stacked winners playing it for real money straight away! The Stacked RTP rate of 96.63% allows for that perfectly.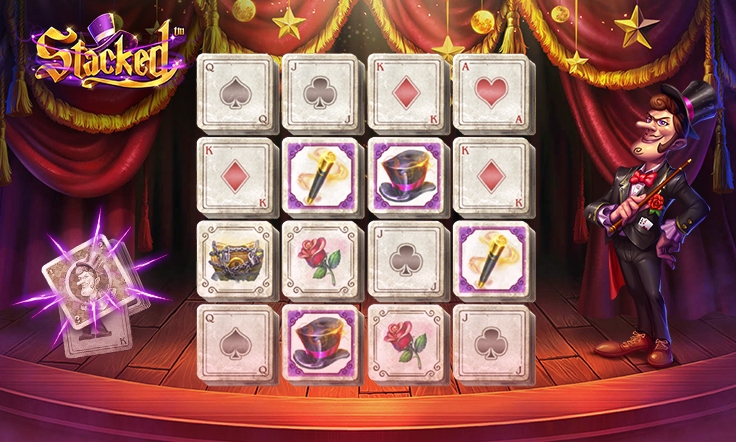 Stacked Jackpot
Not all online slots have jackpots and there's none in this game, either. However, despite the absence of a Stacked jackpot, there are several amazing ways to increase your wins in the game. Let's sort them out so that you get a clear image of what to expect.

● Secret Trick
All magic shows start with tricks, so does Stacked. The illusionist with a thin mustache demonstrates the power of his wand to produce a Secret Trick. He can wave it on any spin to bring a random number of facedown cards faceup on the grid. The turned cards can form a winning combo.

● Fix the Trick
If you are facing a non-winning round, you needn't feel blue because nothing ventured nothing gained! And the magician here will help you fix things. He may turn as many as up to 8 symbols randomly and pay 3 times the usual. If the wild symbol is chosen it will grant you the biggest prize.

● Sleight of Hand
Here, the Magician will work his power with nudges to move the reels in a special position to get you winning combinations.
Stacked Free To Play Demo
Want to find out what Stacked play feels like? Well, that's quite sensible. The Stacked slot demo version available at DuxCasino will give you an enormous amount of playing coins to try out the game as long as you wish. Once they are over, you will instantly get a refill. The Stacked demo play isn't any different from real gambling except for the opportunity to get real wins in the latter. To launch the Stacked demo game at DuxCasino you won't be requested to register an account or download the game.
How To Play Stacked
Opening the game, the first thing you encounter will be choosing the coin size to wager. Here the minimal bet is ($, €, £)0.1 and the maximum one is ($, €, £) 150. There's also an autoplay function that allows spinning the reels automatically. The highest paying icons of the game are the Mystery Box and Hat that both pay 50x or 500x the stake if landed in reel three or four respectively. Other symbols of the game involve a Magic Wand, Locked Chest, Rabbit, Rose, Hearts, Diamonds, Club, and Spaces. The mystery Box is also the wild of the game substituting others to form winning combos. Also, it triggers five free spins - all the symbols flip over and you choose the spots. If any of the below-mentioned are shown extra features can be revealed:
● Prismatic Reel - randomly chosen reel gets filled with stacked wild icons;
● Magical Mu;
● Multiplier - your final win is multiplied up to 4 times;
● Spectacular Spins - can add up to 5 free spins;
● Instant Win - at the end of the cash spins' round, you can collect up to 20x the bet multiplier.
Stacked Pros and Cons
Pros:
● Several bonus rounds with up to four unique extras;
● Mystery symbols are chosen randomly;
● Perfect for low-med volatility game fans;
● Two randomly chosen non-winning spin modifiers.

Cons:
● A weak potential.
Play Stacked on Mobile Phone or Tablet
Being absolutely mobile-friendly, the slot machine can be launched on any mobile phone or tablet regardless of the operating system it works on. Just the same way, DuxCasino is compatible with any mobile device while the DuxCasino app available at app.duxcasino.com will make gambling on the go even easier and more convenient!
Join Now and Play Stacked
Stacked is another new name in the market of low-med volatility slot machines, yet it promises to become a highly loved one soon! If you haven't tried it yet, we encourage you to sign up and start gambling now! Be certain, you are going to enjoy some marvelous fun time! Say "Abracadabra" and see the magic work!
Play now
Stacked FAQ
Whenever you have any concerns related to the Stacked slot machine, you are free to contact DuxCasino customer service regardless of the time. We are available 24/7. However, might find answers to your questions in this Stacked FAQ:

Q: How to start playing Stacked slot?
A: Start by launching it at DuxCasino and choosing the coin values.

Q: How to Play Stacked slot?
A: Once you have selected the number of coins and their values you can afford, make the deposit and tap the "Spin" button.

Q: What is the Stacked slot RTP/Volatility?
A: The Stacked slot RTP is 96.39% while the volatility is Low-Med.

Q: What is the Stacked slot jackpot?
A: There are no jackpots in the game, but it comes with several bonus rounds.

Q: How much can I win in the Stacked slot?
A: The maximum possible win is 664.3x the bet (through bonus rounds) while the base game offers a maximum of 100x the bet.

Q: Is the Stacked available on mobile?
A: Yes, both real money and free Stacked are available on mobile.
Stacked Slot at DuxCasino Verdict
The Stacked slot is cinematic, attractive, and quite rewarding at times for a low-med volatility game. The game's captivating features will keep constant small wins rolling in all the time and provide you with a fun experience in the long run.

Play now
More news