13 April, 2021
Fire Joker Review
The classic three-wheel slot Fire Joker is made for the lovers of slot machines. The company
Play'n Go
presents a game with 5 paylines. The Fire Joker looks like all classic slots, but has additional features that make the gameplay more exciting and diverse.

Gameplay details
There are 3 reels and nine images on the screen of the online slot machine Fire Joker. You are allowed to play only on five active bands, making equal bets on them in the range from one cent to twenty euros. No less than five cents and no more than one hundred euros are accepted for the round.
Special symbols, bonus rounds, free respins and other options are available in the game. Winning combinations consist of three identical images on any of the five lines involved. The payout is determined by multiplying the bet for this band by the multiplier of the received chain. If there are several sequences in one spin at once, the accrued credits are added together.

Special symbols
Wild as a card Joker. It is paid separately, forming a combination with the maximum multiplier, and also replaces other images, if the situation requires it.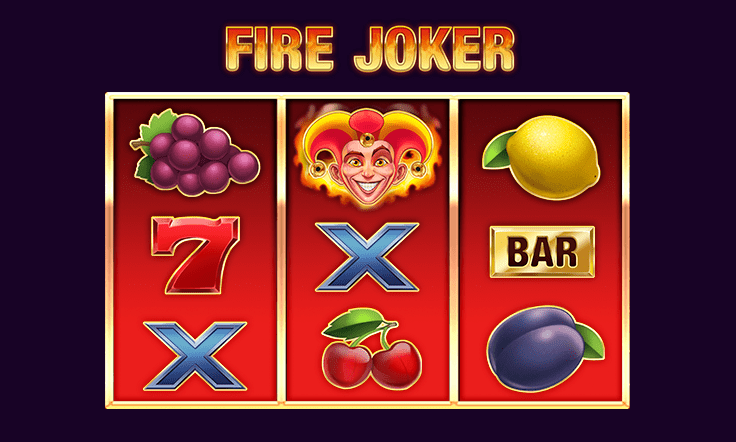 Gradation of the most expensive symbols in the game:
Fire Joker is a classic fruit-themed slot just almost the same as you might play in Las Vegas, Monaco, Singapore or Macau. During the game you trigger these symbols:
● seven is the second
● star – the third
● bar – the fourth
● plum – the fifth
● blackberry – the sixth
● lemon – the seventh
● cherry – the eighth
● X – the ninth

Good luck in pursuing bonuses, respins and special features.

Play now
Fire Joker's bonus
Respin of Fire – if two columns have the same images, but there is no winning combination, the third reel spins for free again.
Wheel – when all nine cells on the screen are filled with the same images (including cards with jokers), the wheel of fortune analog is launched. Its sectors show additional multipliers from x2 to х10. They are multiplied by the total payout accrued for combinations.
What is the slot's return to player percentage?
The RTP is 96.15%. What is a good RTP percent then? RTP normally varies from 94 to 99%. Fire Joker slot game has a decent RTP and totally deserves a try. Naturally it's not a game for long session, but a gambler should try to reach the wheel of multipliers at least once. We described this feature below.

Tips for players of Fire Joker:
● Land two identical reels to make a respin
● Identical symbols will get you the Wheel of Multipliers and multiply your win up to х10

Payments
The Joker Wild offers 80 coins for 3 of a kind. Lucky Sevens will earn you 25 for the maximum combination, and three stars on the payline offer 20 coins. To increase payouts, it is better to use the multiplier wheel.

Positive sides:
● Multipliers go up to 10x in Wheel of Multipliers
● Free respins

Negative sides:
● 5 paylines
● No Free Spins

Joker's symbolism and allusion
The Joker has many meanings. In many games it's a wild card that may be used to represent another card. The most large-scale explanation has been given by mystic Alister Crowley in his The Book of Thoth (1944).

In tarot this card is numbered 0 like the first or 21 like the last. Zero means unstructured energy which may transform accidently from beggar to king. Actually it was possible in medieval times. According to some sources, sometimes kings were choosing the best husband for their daughters just from the crowd to find the smartest and strongest candidate without any royal background. And that exactly what fire joker means, it's always a transformation and doesn't mean to be stupid or naive at all.

Play'n go created an excellent game which represents this idea. Enjoy the thrill of collecting a few Joker symbols and get a respin of fire. This is the part of the game that pumps your adrenaline, turns you into the wheel of multipliers, like roulette, where you can multiply your win from X2 to X10 and coins will be thrown out like a jackpot and finally a big win will be announced.

The Joker is a big part of French and Italian games. Painted with a trumpet, juggling balls or a travel bundle this card exists in Thoth Tarot or in the most common French-costumed card decks. An open-minded vagabond, beggar and adventurer who one day might become an aristocrat or hit the jackpot. Actually this folk story exists in every European nation. The biggest real representation of this idea might be a Rasputin who changed from a poor stranger to an Emperor's family adviser.

In gambling this happened with Archi Karas who came to Las Vegas with $50 to play poker and his highest balance was $40,000,000. Fire Joker is a simple and captivating game full of allusions and the wheel of multipliers feature is pretty nice. Moreover, Fire Joker symbols may appear on all three reels at once and give you the greatest chances for a big win. If previously you were brave enough to click the bet button you could be fabulously rewarded.

If you are looking for some nice bonus features, you should definitely try it out. It's one of the games in DuxCasino slot recommendations.


The main verdict
First of all, this video slot is interesting for cool jokers. They dress in stripes. There are really a lot of them. Accordingly, there are also a lot of payments here. In addition, there are bonus respins and a wheel with additional multipliers which are often triggered.

A classic fruit machine with a modern twist will help you get profitable payouts, but it will also help you launch respins. The best Fire Joker strategy is to keep playing until you get the 10 times multiplier with a high paying symbol. The game features make the Fire Joker's dispersion level quite low. You can play Fire Joker Online slots on your iPhone, iPad, Android phone and all other types of tablets or device.

Try out another game from a Play'n Go games provider. One of the most popular, of course, is the Book of Dead which was released in 2016. Play'n Go studio creates flashy games with different themes and sound design. If you have stumbled upon one of their games you definitely will become a slot buff. Luckily we publish the most recent slots and you can enjoy their graphics, winning lines and atmosphere. New games come up day by day.

Visit our blog to be aware of the most exciting games in the online casino industry. They vary hugely from reels to paylines and we'll give you full coverage. If the 3X3 Fire Joker game is too simple for you, you might find one which suits you better
Play now
More news
Interesting articles
Big Bass Bonanza Slot Review
Charlie Chance XreelZ Online Slot Review
Foxpot Review
Moon Princess Slot Review
Queen of Alexandria Review