2 July, 2021
Burning Stars 3™ Online Slot Review July 2021
About 5 billion years ago, waves of energy traveling through space squeezed into clouds of small particles, gravity forced them together and then rotation began.

From the material gathered in the center, a protostar formed, eventually becoming the Sun. Today you can see the sun not only in the sky, but also in the Burning Stars 3™ slot, where the sun in this slot is capable of bringing you 2187x your bet. This hot slot simply bombs players' imaginations with its combination of classic and beloved fruit symbols, mysterious sky themes, and incredibly clever mechanics. A 3x3 grid with nine reels and frequent wild symbols that allow you to win even more, an unimaginably huge jackpot - you will immediately realize that the temperature of this awesome slot never drops!

Burning Stars 3™ Online
This is a brand new slot, which was released in April 2021. And despite the fact that it's a classic slot machine, the developers have added many new features. Since 2010 Wazdan has already had more than 120 different games. This is a continuation of the traditional version of Burning Stars 3™, but with brand new features and the opportunity to win a mega Jackpot.

How To Play Burning Stars 3™
There are 9 separate reels with a 3x3 grid, just like in classic slots. In addition to the jackpot, you can win if 4 of the same symbols appear on any of the reels. The RTP is 96.12%. The bet varies from 0.10 to 100 coins. You can choose to play the slot with a medium, high or a low variance yourself. It does not affect the maximum winnings, just how often you get winnings. With low volatility, winnings will be more frequent but small, with high volatility a little less frequent but larger. So you can evaluate your bankroll and choose what works for you. Place the required bet and click on Play. You can also turn on the auto-play by selecting the required number of spins.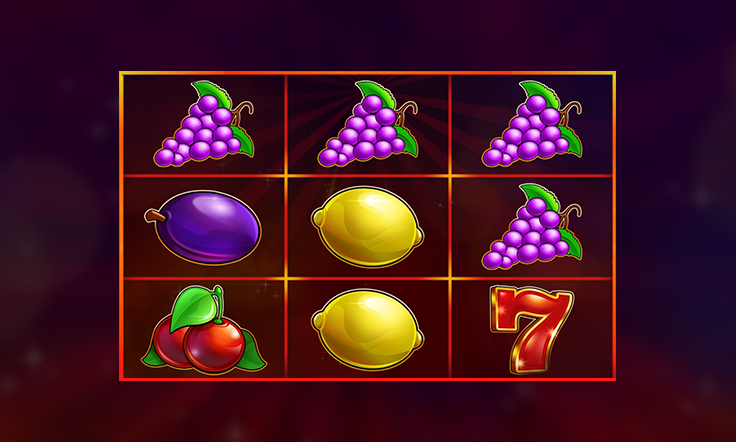 Burning Stars 3™ Jackpot
Just catch 3 bonus symbols at the same time. Doesn't this sound simple? Ok, you're sure to love the fact that the bonus includes 3 initial re-spins that are renewed when the sun appears on the screen! The cold-blooded ones who can wait for more than two sun symbols will get the chance for the grand jackpot, which offers astronomical winnings exceeding your bet by 2187 times! 3 suns will give 3x of your bet, 4 suns will give 9x, 5 will give 27x, 6 suns will give 81x, 7 suns will give 243x, 8 suns will give 729x of your bet and 9 suns will give 2187x. What's more, for those with a temper like a burning star, there's a buy-in feature that allows you to buy a bonus at any time. And to make the game enjoyable for every player, this slot gives you access to settings for personalizing your playing session.
Burning Stars 3™ Free To Play Demo
There are many subtleties and steps that can help newbies have more success than just trying their luck right away. Most beginners and even experienced players prefer to play the demo version at DuxCasino first. Such a mode means players can enjoy the game for free and develop their strategy, to then use in real money mode. See how the machine behaves when the bet is raised or lowered, how much the average winnings give the launch of the bonus round, how often combinations of more than 3 symbols fall out - and you will know what to expect from the game. This is a great free guide to a variety of trends on this slot and trends in the gaming industry. You can run any new slot for free and see what its functionality is and whether it suits your taste.
Play Burning Stars 3™ on Mobile Phone or Tablet
This video slot is characterized by excellent graphics and visual components. The background of the playing field is presented in the form of the sky with sunrays and twinkling stars. With sounds set up for victory. The format of the slot machine - HTML5, allows you to enjoy the gameplay without any failures. This video slot does not require any additional programs to start. Burning Stars 3™ functions equally well on both desktops and phones. You can also download the app for iOS and Android at app.duxcasino.com.
Join Now And Play Burning Stars 3™
Do you want to feel the real excitement and joy of victory? If you haven't registered yet, hurry up. Creating an account allows players to invest and play for real money. Do you want to win for real? Then it's worth registering on the site. After that, you'll be able to make a deposit, as well as withdraw the money you win. Some slots regularly operate various bonus promotions. All the promotions can be found in the "Bonuses" section. DuxCasino offers a generous €500 Bonus + 150 Free spins bonus that you can use right after registering. Don't miss your chance to increase your bankroll and enjoy the scorching sun with Burning Stars 3™.
Play now
FAQ
How to start playing the Burning Stars 3™ slot?
Register on the DuxCasino website. Open Burning Stars 3™. To get started it's better to try the demo mode in order to understand everything in detail. Then select your bet, choose the volatility you want, and start running the slot.

What is Burning Stars 3's RTP/Volatility?
Volatility determines the frequency of wins and their interval. This is a built-in feature of the software manufacturer. At Burning Stars 3™ the RTP is 96.12%, indicating a high level of return. In this slot you can choose the volatility yourself, which is a rarity among slot games.

What is the jackpot in the Burning Stars 3™ slot?
This is your chance to become a very rich man in just one spin. Three burning suns on the playing field activate a bonus round where you get a huge opportunity to increase your bet by many times.

How much can I win in Burning Stars 3™?
You win a lot in this slot but the biggest prize is when the whole playing field is filled with the sun symbol during the bonus round. This tells you that your bet will be multiplied by 2187!

Is Burning Stars 3 available on mobile?
Of course, if you feel more comfortable playing on your phone, DuxCasino has already taken care of that. You can download the free app and enjoy a quality game from your gadget at any time of the day or night.


Burning Stars 3™ Slot at DuxCasino Verdict
This is a truly stellar hit that carries a lot of cosmic fun. Just ride and reach for the stars, because there is no limit in Burning Stars 3™! Juicy bright fruits will delight you with their combinations, and the fiery sun will warm you with its love and make you happy with gold coins. Don't get burnt, the game promises to be very hot!

Play now
More news